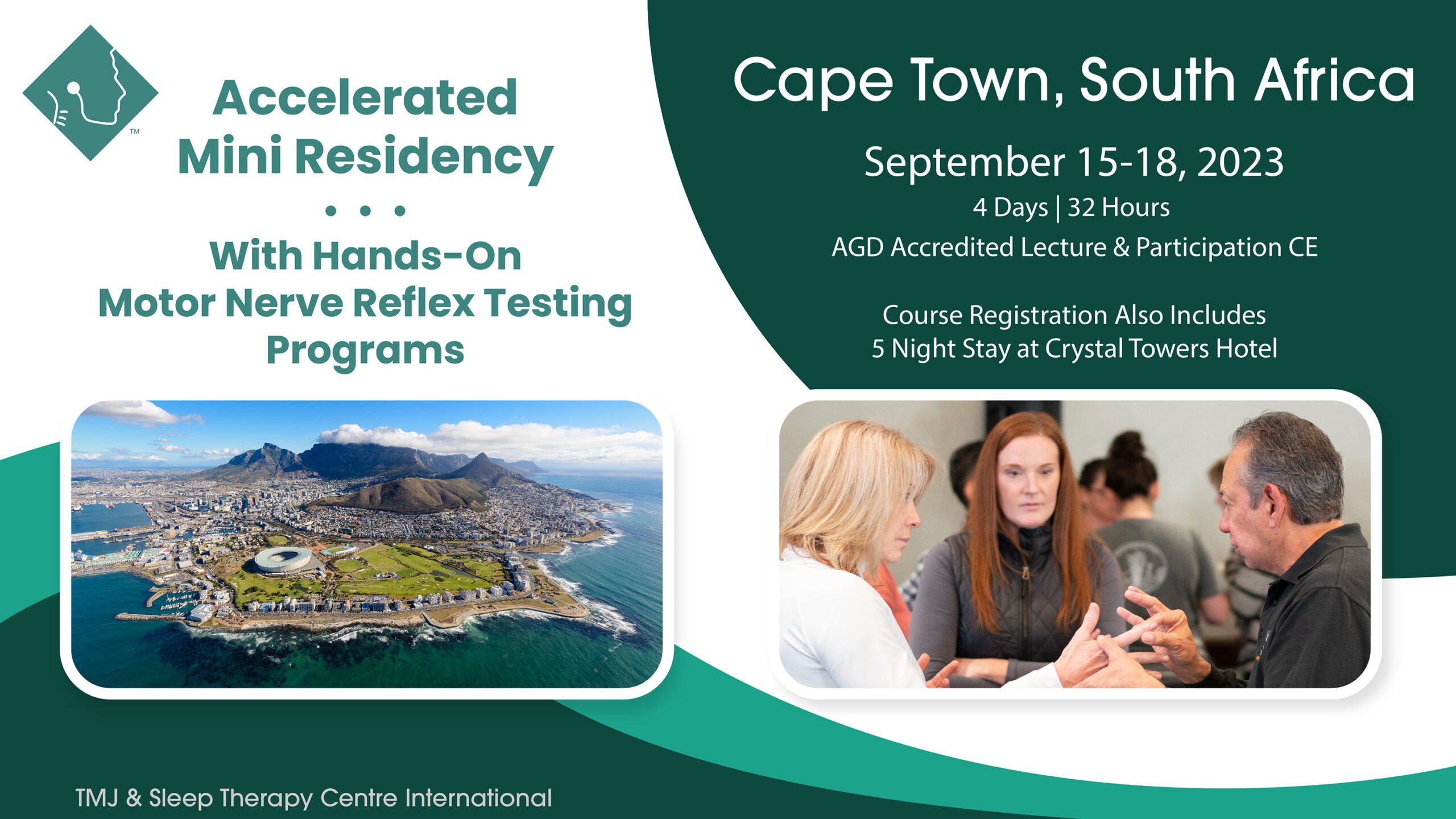 Expanding To New Locations
Dr. Steven Olmos, world-renowned dental sleep medicine expert, is excited to announce that he is bringing his comprehensive Continuing Education courses on Sleep-Breathing Disorders (SBD) and Craniofacial Pain (CP) to Cape Town, South Africa. This will be Dr. Olmos' first time teaching in Cape Town, and he is eager to share his knowledge and expertise with healthcare professionals in the region. This is an exciting opportunity for dental and medical professionals to expand their knowledge and skills, ultimately improving the quality of care they can provide to their patients. 
Doctors in Cape Town, surrounding areas, and traveling in from across the globe will have the unique opportunity to learn from Dr. Olmos himself and gain access to the latest treatment protocols, diagnostic tools, digital manuals, and marketing materials. They will learn how to accurately diagnose and treat CP, most effectively treat SBD, and how to develop personalized treatment plans tailored to their patients' specific needs.
Patients in Cape Town will benefit from having access to healthcare professionals who are trained in both SBD and CP. With Dr. Olmos' comprehensive approach, they can receive the highest level of personalized care and experience improved sleep, reduced pain, and overall better health.
Aside from the opportunity to learn from a world-renowned expert in the field, Cape Town boasts some of the most breathtaking natural landscapes and cultural attractions in the
world. This is a great opportunity for dental and medical professionals around the world to visit the beautiful and culturally rich city of Cape Town, South Africa.
Take a cable car to the top of Table Mountain and take in the panoramic views of the city, or venture to Cape Point and stand at the edge of the continent, where the Indian and Atlantic oceans meet. If you're looking for an adrenaline rush, try shark cage diving in nearby Gansbaai, or go surfing at Muizenberg Beach, one of the most popular surfing spots in the world. With so much to see and do, Cape Town is the perfect destination for healthcare professionals looking to expand their knowledge and explore a new corner of the world.
The System
Dr. Steven Olmos provides continuing educational courses for healthcare professionals who want to implement his System that has been reproduced around the globe. The courses are designed to provide participants with the knowledge and skills they need to effectively apply his System in their practice. During the courses, participants receive comprehensive education on the treatment and management of SBD, including obstructive sleep apnea. They learn about the latest diagnostic tools and techniques, as well as how to properly fit and adjust oral appliances for patients.
In addition to the education provided during his courses, Dr. Steven Olmos also offers access to a range of evaluation forms, flowcharts, patient documentation, and digital manuals to successfully implement his System. These resources include comprehensive evaluation forms and checklists that guide the diagnostic process and help practitioners accurately assess the severity of a patient's condition. Additionally, detailed flowcharts are provided to assist in developing a customized treatment plan for each patient based on their specific needs.
To enhance their education, practitioners are granted access to digital manuals that serve as valuable references, offering guidance on the application of learned concepts. These resources can be accessed online and printed for use in the practice. By utilizing these resources, practitioners are equipped with the tools and knowledge necessary to successfully implement his System in their practice and provide their patients with high-quality care. With the aid of these evaluation forms, flowcharts, patient documentation, and digital manuals, practitioners can efficiently and effectively diagnose, and maintain treatment for their patients.
Advantages of Attending
Participating in the Accelerated Mini Residency Program not only improves the quality of care provided to patients, but also provides a competitive advantage in the dental and medical field. Participants are at the forefront of this growing field, and their patients will appreciate the excellent care provided. Sleep and Pain disorders 
are becoming increasingly prevalent in today's society, and it is critical that healthcare professionals are equipped with the knowledge and skills to diagnose and treat these conditions effectively. Dr. Olmos' Mini Residency Program is designed to provide healthcare professionals with the latest diagnostic and treatment techniques for sleep and pain disorders, allowing them to provide the best possible care for their patients.
One of the most essential aspects of his Mini Residency Program is the multidisciplinary approach to care that it emphasizes. Participants will learn how to work collaboratively with other healthcare professionals, such as sleep physicians, Neurologists, and ENTs to provide comprehensive care to patients with sleep and pain disorders. This approach ensures that patients receive the best possible treatment, leading to improved outcomes and
a better quality of life. Moreover, Dr. Olmos' program is known for his System of diagnosis and treatment. This means that participants will not only gain valuable knowledge and skills but also practical tools and techniques that they can implement in their practice immediately.
Course Objectives
At course completion, attendees will be able to:
◆ Screen SBD, Sleep Disordered Breathing, OSA, Craniofacial Pain
◆ Find CR
◆ Interpret CBCT and MRI Imaging
◆ Perform Electrodiagnostics: JVA
◆ Use Motor Nerve Reflex Evaluation (Neural and Orthopedic Screening)
◆ Understand Head and Neck Anatomy
◆ Understand Airway and TMJ Neuroanatomy
◆ Diagnose and Plan Treatment
◆ Evaluate Sleep Disorders
◆ Triage Sleep Appliance Therapy
◆ Understand the Different Types of Headaches
◆ Recapture Discs
◆ Chose Orthotic Design & Indications
◆ Understand Pharmacology
◆ Understand the Comorbidity Between Sleep Disorders and TMJ Pain
◆ Understand Neuropathic Disorders
◆ Understand Musculoskeletal Pain
◆ Understand Physical Medicine Modalities
◆ Use Orthodontic/Orthopedic, Removable and Fixed Prosthodontics Treatment for Facial/Jaw Pain and Breathing Disorders
◆ Create a Nutrition Plan
Hotel Included
A 5 night stay at the Crystal Towers Marriott Hotel, where the course will be held, is complimentary with registration. Daily light breakfast, two tea breaks, and lunch provided during the course is also provided. One of the standout features of the Crystal Towers Hotel is it's prime location. The hotel is situated in the heart of the
Photos Courtesy of Marriott Crystal Towers Hotel, Cape Town, South Africa
Century City Business District, just a short drive from Cape Town's city center and other major attractions. This convenient location allows guests to easily explore the city while also providing them with a peaceful and relaxing atmosphere away from the hustle and bustle of the city.
TMJ & Sleep Therapy Centre International invites all dental and medical professionals from around the world to join and make a significant impact on their patients' lives while advancing their careers.
Participating in Dr. Olmos' Accelerated Mini Residency program in Cape Town is an opportunity not to be missed. This program is designed to help healthcare professionals stay up-to-date with the latest developments in the field of sleep and pain disorders, ultimately leading to better patient outcomes and improved quality of life.
Don't miss out on this opportunity to learn from one of the leading experts in the field. Sign up for Dr. Olmos' Accelerated Mini Residency program in Cape Town today!
"You will leave this course prepared to treat TMD and Sleep Disordered Breathing at a level you didn't even know existed. No other CE program has delivered results like this one. Dr. Olmos' researched and evidence-based systems added $1,000,000 of production to our practice within 12 months. This will be the best investment you've ever made in your practice."
See what other Doctors are saying about our courses.