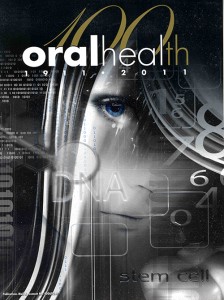 Oral Health | 2011

by Steven Olmos, DDS, DABCP, DABCDSM, DABDSM, DAAPM, FAAOP, FAACP, FICCMO, FADI, FIAO
We need to evaluate our sys­tem of treatment. A patient presents with worn denti­tion or complaints of muscle soreness. The dentist produces a nightguard without further in­ vestigation. The result is that the treatment helps the symptom of muscle soreness, makes it worse or has no effect. The dentist is unclear what to do.
Facial muscles are sore because of central nervous system stimulation. Jaw joints break down the result of continued nocturnal parafunctional activity. We bite harder at night due the result of proprioception ascending to the cerebellum and basal ganglia in­ stead of the cortex where we rec­ognize how hard we are biting. In the daytime proprioception as­cends to the cortex where we are conducted a study on one hundred adult bruxers and their relation­ ship to stress and anticipatory stress measured by EMG. They found: "No overall relationship was established between electro­myographic measures and the personality variables nor between electromyographic measures and self-reported stress."
Gurdev Dave Singh & Steven Olmos
© Springer-Verlag 2007
Patients with temporomandibular dysfunction (TMD) require correction of mandibular position, but the ideal position for the mandible remains controversial. Miralles et al. [1] found the amount of freeway space (FS) required depended on the protocol used to measure it. For example, a significantly higher clinical FS value was found using a phonetic method than after swallowing or with the mandible in a relaxed postural position. A sibilant is the hissing or whistling sound heard in the formation of certain letters in speech, such as the letter "s." A phoneme is the smallest unit of speech that defines one sound from another.
Thus, a sibilant phoneme registration (SPR) protocol is colloquially known as a 'phonetic bite'. Patients with TMD secondary to temporomandibular joint (TMJ) inflammation (retrodiscitis), disc displacement, or disc dislocation require an antero-posterior (AP) correction inter alia.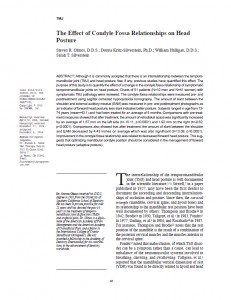 Steven R. Olmos, D.D.S.; Donna Kritz-Silverstein, Ph.D.; William Halligan, D.D.S.; Sarah T. Silverstein
THE JOURNAL OF CRANIOMANDIBULAR PRACTICE | Jaunuary 2005

Although it is commonly accepted that there is an interrelationship between the temporomandibular joint (TMJ) and head posture, few, if any, previous studies have quantified this effect. The purpose of this study is to quantify the effect of a change in the condyle fossa relationship of symptomatic temporomandibular joints on head posture. Charts of 51 patients (N=10 men and N=41 women) with symptomatic TMJ pathology were reviewed. The condyle fossa relationships were measured pre- and posttreatment using sagittal corrected hypocycloidal tomography. The amount of slant between the
shoulder and external auditory meatus (EAM) was measured in pre- and posttreatment photographs as an indicator of forward head posture; less slant indicates better posture. Subjects ranged in age from 13-74 years (mean=43.1) and had been treated for an average of 5 months. Comparisons with pre-treatment measures showed that after treatment, the amount of retrodiskal space was significantly increased by an average of 1.67 mm on the left side (t=-10.11, p<0.0001) and 1.92 mm on the right (t=-9.62, p<0.0001). Comparisons also showed that after treatment, the amount of slant between the shoulder and EAM decreased by 4.43 inches on average which was also significant (t=13.08, p<0.0001). Improvement in the condyle fossa relationship was related to decreased forward head posture. This suggests that optimizing mandibular condyle position should be considered in the management of forward head posture (adaptive posture).