TMJ & Sleep Therapy Centre of Eastern Ontario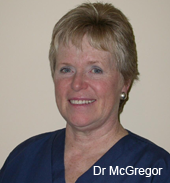 Dr. Catherine McGregor
Dr. McGregor was born in Montreal and following a BSc. in Biology-Chemistry from Loyola College, she received her DDS from McGill University in 1974. She took to heart the Dean's parting message to her about "Daily Knowledge" and has been committed to lifelong learning. Catherine spent ten years searching and studying in the fields of craniofacial pain, dentofacial orthopedics and sleep disorders, culminating in earning Fellowship in the American Academy of Craniofacial Pain in 2007, and then in 2009 establishing the TMJ & Sleep Therapy Centre of Eastern Ontario, following the protocol established by the Founder, Dr. Steven Olmos, of San Diego.
Some of the organizations that Dr. McGregor is a member of include The Canadian Sleep Society, The American Academy of Craniofacial Pain, The American Academy of Dental Sleep Medicine, the International Association for Orthodontics, and The Canadian Dental Association. Dr. McGregor is a founding member of the Canadian Chapter of the American Academy of Craniofacial Pain, and currently serves as the President Elect. She also leads several study clubs in her area, the Eastern Ontario/Northern New York Study Group, and the Rideau/1000 Islands Study Group. Dr. McGregor also enjoys speaking to the public or groups of professionals on various topics in her chosen field.
Dr. McGregor and her highly skilled staff are dedicated to giving their patients a thorough assessment, accurate diagnosis and compassionate treatment that sometimes involves referrals to other healthcare professionals. Expect quality care in a caring environment.
Upcoming Events and/or Speaking Engagements
"What IS TMJ Therapy Centres International ?"
Sun 7th February 2016 to members of the Granite Curling Club. Noon till 1 pm. Light lunch provided.
Learn first-hand what
other doctors

think of our courses
Here are just a few testimonials from our large network of doctors.
Daniel G. Klauer, DDS
5.0 ★★★★★  a year ago
You will leave this course prepared to treat TMD and Sleep Disordered Breathing at a level you didn't even know existed. No other CE program has delivered results like this one. Dr. Olmos' researched/evidenced based systems added $1,000,000 of production to our practice within 12 months. This will be the best investment you've ever made in your practice.
Joseph Baba, DDS
5.0 ★★★★★  a year ago
We have implemented Dr. Olmos' TMD/Sleep and Ortho protocols for almost one year now. This approach has considerably raised the precision of our diagnosis, the speed of treatment and has consistently produced predictable resolution of our patient's conditions. Implementing Dr. Olmos' protocols has elevated our good track record to great.
Ryan L. Skale, DDS
5.0 ★★★★★  a year ago
The TMJ & Sleep Therapy mini – residency was a game changer for me in how I evaluate and treat my entire patient base. I've always known there was a "blind-spot" in my evaluation and management of bruxers and patients with facial pain. Dr. Olmos' course taught me more than I could ever imagine about chronic pain, airway and breathing concerns and bruxism. Most important, the material learned is supported by an unimaginable amount of researched literature references.