TMJ & Sleep Therapy Centre of Kansas City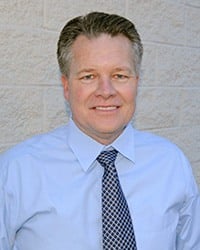 1236 West 103rd Street, Kansas City

,

 

Missouri, USA

 

64114
William D. Ledford, DDS
Dr. William Ledford graduated from the University of Missouri Kansas City Dental School in 1992. Prior to dental school, he attended Drury University. Dr. Ledford has been actively practicing dentistry since 1998.
Dr. Ledford feels strongly about continuing education. He exceeds annual CE requirements by taking courses and receiving advanced training in a variety of dental topics, including TruDenta® training at the Las Vegas Dental Institute. He wants to make sure his patients receive the most up-to-date care possible. As a dentist, his primary goal is to help patients maintain their teeth for a lifetime and educate them how to do so.
Dr. Ledford and his wife, Amy, recently celebrated their 25th anniversary. Together they have three children, Kameron, Evan, and Olivia. Over the last decade, Dr. Ledford has sponsored various girls and boys sports teams in the community. When not at the office, you are likely to find him at the golf course.
Learn first-hand what
other doctors

think of our courses
Here are just a few testimonials from our large network of doctors.
Daniel G. Klauer, DDS
5.0 ★★★★★  a year ago
You will leave this course prepared to treat TMD and Sleep Disordered Breathing at a level you didn't even know existed. No other CE program has delivered results like this one. Dr. Olmos' researched/evidenced based systems added $1,000,000 of production to our practice within 12 months. This will be the best investment you've ever made in your practice.
Joseph Baba, DDS
5.0 ★★★★★  a year ago
We have implemented Dr. Olmos' TMD/Sleep and Ortho protocols for almost one year now. This approach has considerably raised the precision of our diagnosis, the speed of treatment and has consistently produced predictable resolution of our patient's conditions. Implementing Dr. Olmos' protocols has elevated our good track record to great.
Ryan L. Skale, DDS
5.0 ★★★★★  a year ago
The TMJ & Sleep Therapy mini – residency was a game changer for me in how I evaluate and treat my entire patient base. I've always known there was a "blind-spot" in my evaluation and management of bruxers and patients with facial pain. Dr. Olmos' course taught me more than I could ever imagine about chronic pain, airway and breathing concerns and bruxism. Most important, the material learned is supported by an unimaginable amount of researched literature references.