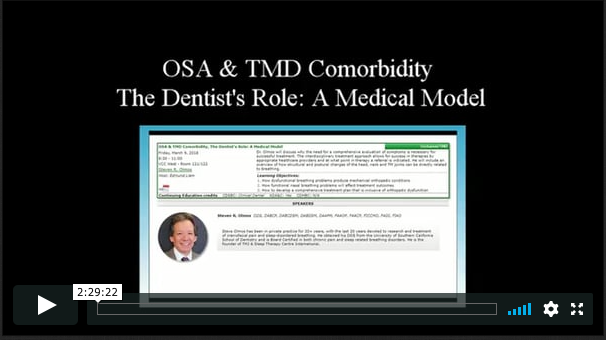 Video recording of the presentation from Dr. Steven Olmos at the 2018 Pacific Dental Conference in Vancouver, BC Canada this past March 9, 2018. This recording is from the morning session.
TMD & OSA COMORBIDITY
Dr. Olmos will discuss why the need for a comprehensive evaluation of symptoms is necessary for successful treatment. The interdisciplinary treatment approach allows for success in therapies by appropriate healthcare providers and at what point in therapy a referral is indicated. He will include an overview of how structural and postural changes of the head, neck and TM joints can be directly related to breathing.
For more information, please contact Tiffany at tiffany@tmjtherapycentre.com or visit tmjtherapycentre.com
This upload is sponsored by the Canadian Chapter of the American Academy of Craniofacial Pain (AACP). For more information please visit aacpcanada.org or aacfp.org