The secret to a good night sleep could be changing the way we breathe.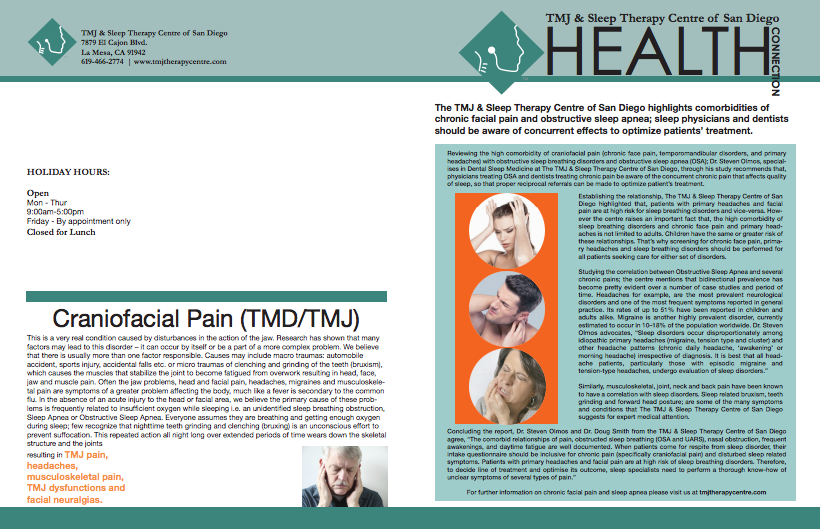 The TMJ & Sleep Therapy Centre of San Diego highlights comorbidities of chronic facial pain and obstructive sleep apnea; sleep physicians and dentists should be aware of concurrent effects to optimize patients' treatment.
Reviewing the high comorbidity of craniofacial pain (chronic face pain, temporomandibular disorders, and primary headaches) with obstructive sleep breathing disorders and obstructive sleep apnea (OSA); Dr. Steven Olmos, special-ises in Dental Sleep Medicine at The TMJ & Sleep Therapy Centre of San Diego, through his study recommends that, physicians treating OSA and dentists treating chronic pain be aware of the concurrent chronic pain that affects quality of sleep, so that proper reciprocal referrals can be made to optimize patient's treatment.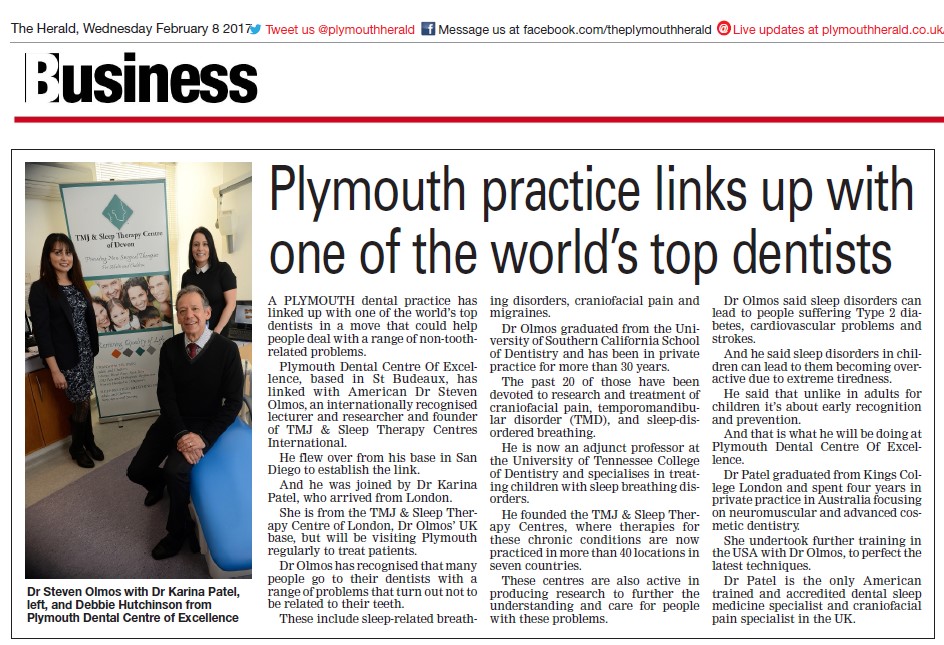 Plymouth practice links with one of the world's top dentists 
A Plymouth dental practice has linked up with one of the world's top dentists in a move that could help people deal with a range of non-tooth-related problems.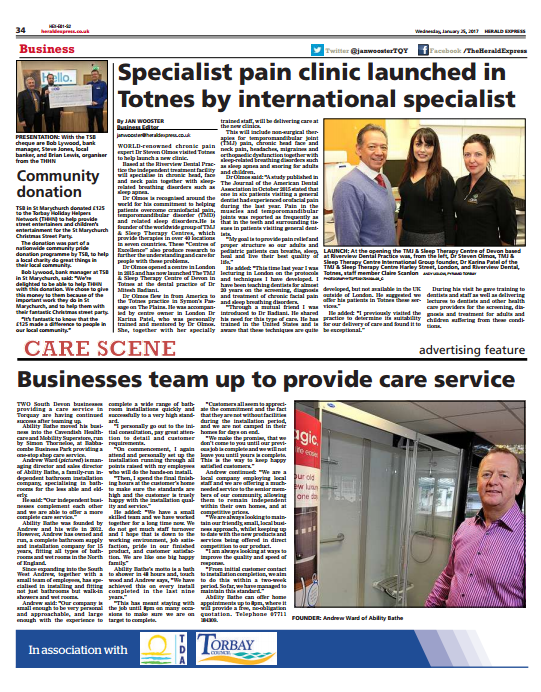 Specialist Pain Clinic Launched in Totnes by International Specialist
World-renowed chronic pain expert Dr. Steven Olmos visited Totnes to help launch a new clinic.
Based at the Riverview Dental Practice the independent treatment facility will specialse in chronic head, face and neck pain together with sleep-related breathing disorders such as sleep apnea.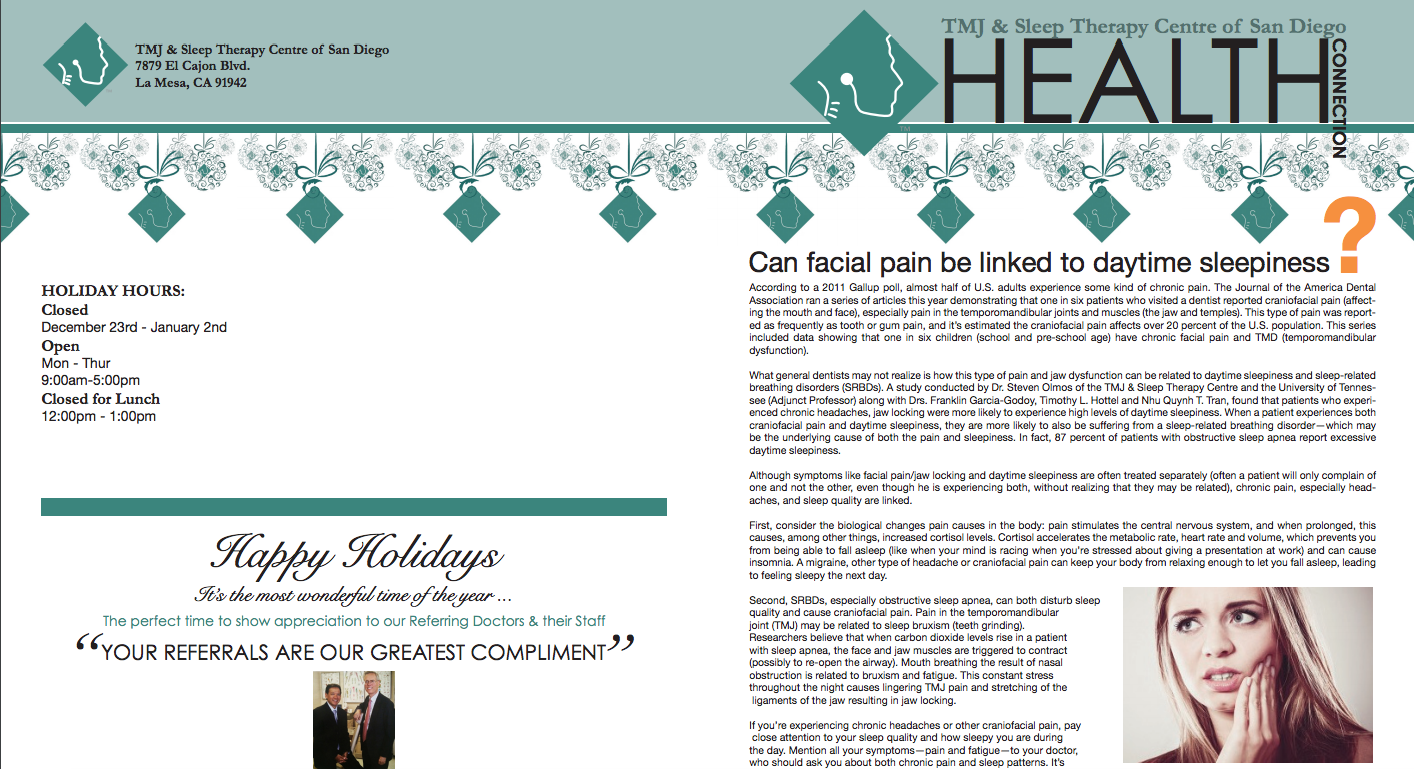 Can facial pain be linked to daytime sleepiness
According to a 2011 Gallup poll, almost half of U.S. adults experience some kind of chronic pain. The Journal of the America Dental Association ran a series of articles this year demonstrating that one in six patients who visited a dentist reported craniofacial pain (affecting the mouth and face), especially pain in the temporomandibular joints and muscles (the jaw and temples). This type of pain was reported as frequently as tooth or gum pain, and it's estimated the craniofacial pain affects over 20 percent of the U.S. population. This series included data showing that one in six children (school and pre-school age) have chronic facial pain and TMD (temporomandibular dysfunction).
San Diego, CA, September 1st, 2016 – Across the nation, the month of September has been officially declared as Pain Awareness Month. TMJ & Sleep Therapy Centres join various organizations worldwide to raise public awareness of issues in the area of pain and pain management. A Study published in The Journal of the American Dental Association October 2015 stated: "One in six patients visiting a general dentist had experienced orofacial pain during the last year. Pain in the muscles and temporomandibular joints was reported as frequently as that in the teeth and surrounding tissues in patients visiting general dentists." Dr. Olmos International Educator and founder of T&S Therapy Centre International say "My goal is to provide pain relief and proper structure so our adults and pediatric patients can BREATHE, SLEEP, HEAL and LIVE their best quality of life."
At TMJ & Sleep Therapy Centres we understand the complexities of craniofacial pain that are unique to each patient. Some patients experience TMJ pain and dysfunctions, some experience primary headaches (known as Migraines, tension or cluster) while others may have facial neuralgias, musculoskeletal pain or a combination of all.
TMJ is one of the conditions most frequently identified by patients. This is a very real condition caused by disturbances in the action of the jaw. Research has shown that many factors may lead to this disorder – it can occur by itself or be a part of a more complex problem. We believe that there is usually more than one factor responsible. Causes may include macro traumas: automobile accident, sports injury, accidental falls etc., or micro traumas of clenching and grinding of the teeth (bruxism), which causes the muscles that stabilize the joint to become fatigued from overwork resulting in head, face, jaw and muscle pain. Often the jaw problems, head and facial pain, headaches, migraines and musculoskeletal pain are symptoms of a greater problem affecting the body, much like a fever is secondary to the common flu. In the absence of an acute injury to the head or facial area, we believe the primary cause of these problems is frequently related to insufficient oxygen while sleeping i.e. an unidentified sleep breathing obstruction, Sleep Apnea or Obstructive Sleep Apnea. Everyone assumes they are breathing and getting enough oxygen during sleep; few recognize that nighttime teeth grinding and clenching is an unconscious effort to prevent suffocation. This repeated action all night long over extended periods of time wears down the skeletal structure and the joints resulting in TMJ pain, headaches, musculoskeletal pain, TMJ dysfunctions and facial neuralgias.
Proper diagnosis and emphasis on origin rather than symptoms alone is key to successful, long term treatment results. After proper diagnosis, a specific non-surgical, treatment plan for rehabilitation is developed for the unique needs of each individual patient.
Facial pain, headaches and jaw problems are frequently only a symptom secondary to a greater problem affecting the body, much like a fever is secondary to the common flu. If any of the following symptoms affect your daily life or you are taking regular pain medication or sleeping aids, you may be suffering from TMD and should be evaluated by a dentist trained in diagnosing and treating these disorders.
Headaches – recurring or chronic

Earache or ear symptoms of stuffiness or ringing

Neck Pain or Stiffness

Facial Pain

Jaw joint sounds (clicking, popping or grating)

Limited ability to open or close mouth

Jaw locking (opened or closed)

Sensitive, loose or worn down teeth

Pain or soreness in the TM joints

Dizziness or Pain or difficulty chewing or swallowing
Contact one of our TMJ & Sleep Therapy Centres, 40 centres in 6 countries, to find the one nearest you please visit us at https://tmjtherapycentre.com/centre-directory-geo-location/
We are here to help you!!   TMJ & Sleep Therapy Centres understand the unique needs of both adults and pediatric patients, and we are committed to the highest standard of care.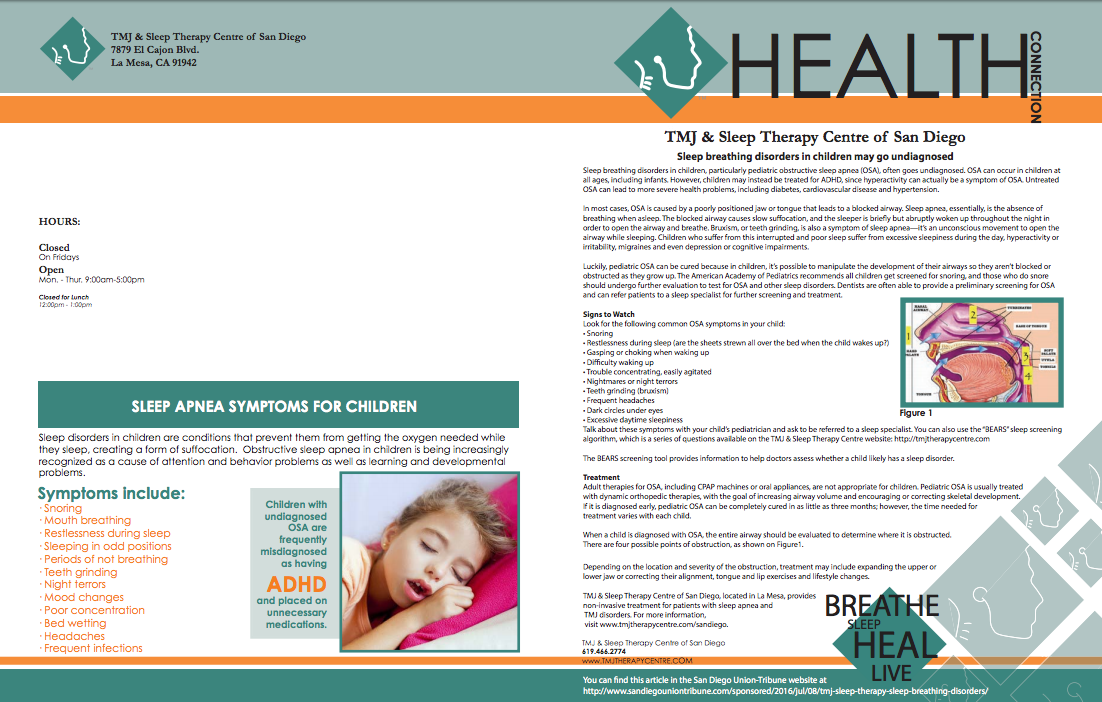 San Diego Health Connection newsletter
Sleep breathing disorders in children, particularly pediatric obstructive sleep apnea (OSA), often goes undiagnosed. OSA can occur in children at all ages, including infants. However, children may instead be treated for ADHD, since hyperactivity can actually be a symptom of OSA. Untreated OSA can lead to more severe health problems, including diabetes, cardiovascular disease and hypertension.
In most cases, OSA is caused by a poorly positioned jaw or tongue that leads to a blocked airway. Sleep apnea, essentially, is the absence of breathing when asleep. The blocked airway causes slow suocation, and the sleeper is briey but abruptly woken up throughout the night in order to open the airway and breathe. Bruxism, or teeth grinding, is also a symptom of sleep apnea—it's an unconscious movement to open the airway while sleeping. Children who suer from this interrupted and poor sleep suer from excessive sleepiness during the day, hyperactivity or irritability, migraines and even depression or cognitive impairments.
Luckily, pediatric OSA can be cured because in children, it's possible to manipulate the development of their airways so they aren't blocked or obstructed as they grow up. The American Academy of Pediatrics recommends all children get screened for snoring, and those who do snore should undergo further evaluation to test for OSA and other sleep disorders. Dentists are often able to provide a preliminary screening for OSA and can refer patients to a sleep specialist for further screening and treatment.
Signs to Watch
Look for the following common OSA symptoms in your child:
• Snoring
• Restlessness during sleep (are the sheets strewn all over the bed when the child wakes up?)
• Gasping or choking when waking up
• Diculty waking up
• Trouble concentrating, easily agitated
• Nightmares or night terrors
• Teeth grinding (bruxism)
• Frequent headaches
• Dark circles under eyes
• Excessive daytime sleepiness
Talk about these symptoms with your child's pediatrician and ask to be referred to a sleep specialist. You can also use the "BEARS" sleep screening algorithm, which is a series of questions available on the TMJ & Sleep Therapy Centre website: https://tmjtherapycentre.com
The BEARS screening tool provides information to help doctors assess whether a child likely has a sleep disorder.
Treatment
Adult therapies for OSA, including CPAP machines or oral appliances, are not appropriate for children. Pediatric OSA is usually treated with dynamic orthopedic therapies, with the goal of increasing airway volume and encouraging or correcting skeletal development.
If it is diagnosed early, pediatric OSA can be completely cured in as little as three months; however, the time needed for
treatment varies with each child.
When a child is diagnosed with OSA, the entire airway should be evaluated to determine where it is obstructed.
Depending on the location and severity of the obstruction, treatment may include expanding the upper or lower jaw or correcting their alignment, tongue and lip exercises and lifestyle changes.

Dr. Olmos lecturing at the AACP 2016
T&S Therapy Centre International – PressRelease – August2016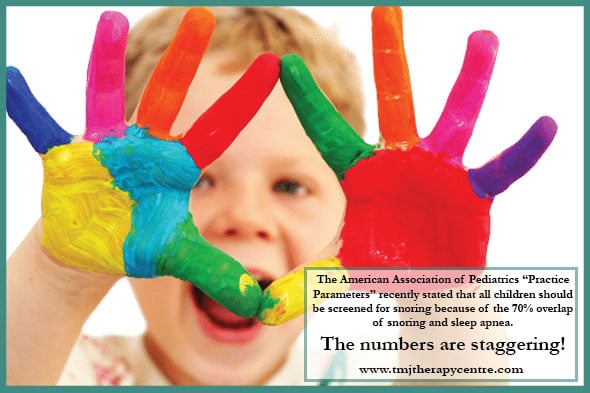 San Diego, CA – March 6-13, 2016 – TMJ & Sleep Therapy Centre joins National Sleep Foundation in their focus to bring the importance of sleep awareness and education to the American public. NIH (National Institutes for Health) has identified that sleep related breathing problems such as obstructive sleep apnea and snoring affect 50 to 70 million Americans. Obstructive sleep apnea has no age boundaries; it affects both adults and children.
Sleep Apnea is defined as the absence of breathing during sleep. When you are not breathing properly during sleep, there is little or no oxygen getting to the lungs; it is like a slow suffocation. Suffocation triggers the cycle of repeated awakening to breathe, resulting in interrupted and poor sleep. Suffocation can also trigger bruxism, which is an unconscious movement to open an airway. This constant movement not only wears down the teeth and the temporomandibular joint, it frequently results in craniofacial pain (headaches, Migraines, TMD). A common reason for the medical condition known as 'Obstructive Sleep Apnea' (OSA) is a poorly positioned jaw or tongue which can lead to a blocked airway, preventing oxygen to the lungs. A custom fabricated oral appliance can be the answer.
The good news is that sleep apnea in children can be cured!
Because children are still growing, their structure can be directed for optimal development of the airway. Non-invasive treatment options are also available for adult patients suffering with sleep apnea including the CPAP intolerant patient.
It is important to understand that the lack of oxygen needed for good sleep does not simply make you tired. There are a wide range of health conditions resulting from the cumulative effect of poor oxygenation and loss of sleep:
The health risks associated with The health risks associated with sleep breathing disorders for adults include:
Diabetes and Cardiovascular Disease
High Blood Pressure and Stroke
Heart Attack
Dysfuntions of The Nervous System
Craniofacial Pain, Orthopedic Dysfunction of TM joints
Sleep breathing disorders for children include:
Diabetes and Cardiovascular Disease
Cognitive Deficiency and ADHD
Impaired Intelligence and Delayed Development Dysfunctions of The Nervous System
Depression
Craniofacial Pain, Orthopedic Dysfunction of TM joints
WHAT TO LOOK FOR – Watch and Listen to Your Child –
They should be evaluated if they meet any of the following:
1. Do they wake in the same position in which they fell asleep?
2. Are the bed sheets strewn all over the bed?
3. Do they have trouble concentrating, or easily agitated?
4. Do they have dark circles under the eyes?
5. Do they snore?
The American Association of Pediatrics "Patient Parameters" states all children should be screened for snoring and all children who snore should have a sleep study for evaluation of apnea because of ADD / ADHD and cardiovascular risk.
Test Yourself – You should be evaluated if you answer 'Yes', to any of the following:
1. Do you snore?
2. Are you a diagnosed sleep apnea patient with CPAP intolerance?
3. Do you often experience morning headaches?
4. Do you wake feeling unrefreshed or unrested?
5. Have you or your sleep partner identified that you choke, gasp or stop breathing during sleep?
Contact TMJ & Sleep Therapy Centre of San Diego Phone: 619.466.2774 www.TMJTHERAPYCENTRE.COM
We are here to help you!! TMJ & Sleep Therapy Centre of San Diego is accredited by the American Academy of Dental Sleep Medicine. Our director, Dr. Steven Olmos, is certified in both Dental Sleep Medicine and Craniofacial pain. We are dedicated exclusively to non-surgical treatments for Sleep Apnea and Craniofacial Pain. We understand the unique needs of both adult and pediatric patients, and we are committed to the highest standard of care.